The return of the Motorola RAZR. Is the world ready?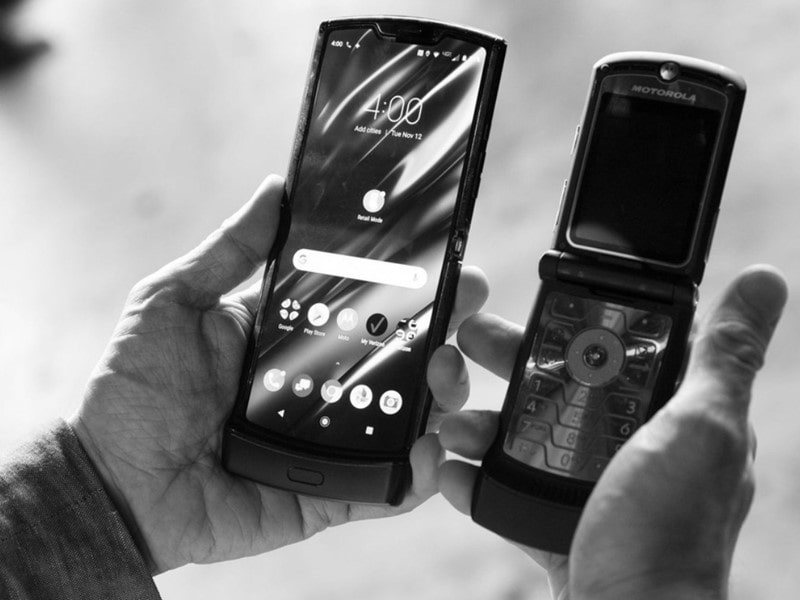 As we all know, smartphones are one of the most popular- if not the most- pieces of tech that majority of people have. Whether it's the new iPhone or an old Samsung, it's still a smartphone. Smartphone companies are constantly in a battle to be the most relevant, have the best tech, be the most efficient. This time, Motorola have brought out something completely different, a smart-flip-phone. Let's have a look at what it's all about. 
What is the Motorola RAZR?
The Motorola Razr 2019 brings something new to the table in terms of smartphones. They're bringing a blast from the past and have made it a flip-phone. A lot of people loved these types of phones, and a lot of people used them as well, so why not bring the two together? It certainly stands out, brings attention and offers something different for people looking for something new. 
If you've seen Motorola before, you'll remember the Motorola V3 that released June 2004. As one of their most popular releases, it looks as if the company are trying to bring this back. Definitely a blast from the past.  
What are the main features? 
To integrate smart into flip-phone, Motorola definitely had to think about both design and functionality a lot in development. To make a successful, world-breaking phone, you need to have seamless features, as well as brining in new ones.  
Flip Screen: 
Initially, when the phone isn't flipped open, it has a smaller screen. This allows you to view your notifications, like a lock-screen, but also interact with them. This includes skipping songs, checking emails, taking pictures and wiping away notifications. In a way, it's similar to a smartwatch. 
If you wanted to flip the phone open whilst continuing on that app, it's a smooth process. There is no need to re-launch an app, or close down another one. It'll transfer from screen-to-screen.  
Functionality: 
The smaller screen when flipped shut gets rid of the problem some people have when their phone won't fit in their pocket. Phones are getting larger, and so the RAZR has kept up with this, while also making it more functional. It's both easier to hold and store. 
Because of its small initial size (having an aspect ratio of 21:9), you can easily handle the phone in the palm of one hand. This makes it easier to multi-task, and harder to drop.  
Although everyone loved the feeling of shutting your old flip-phone, since this one has a smart-screen some people are concerned about it being damaged in the process. 
Screen Size: 
Plus, you're looking for a little bit of contest, the screen actually measures larger than the new iPhone 11 (when elongated). An iPhone 11 sits at 6.1inch, while the RAZR 2019 is at 6.2inch. Although this isn't much, it's still a positive.  
Processing Power, RAM & Storage: 
The new Razr comes with Qualcomm's Snapdragon 710 processor. This, however, isn't the newest of the manufacturer, which is the Snapdragon 855 Plus. Testers have said that the phone felt a bit 'snappy' when navigating through Google's Android operating system. However, a real test can only be done later on, with videos, games and apps that really test the system. 
Furthermore, the Razr comes installed with Google's Android 9 Pie operating system. Not Android 10. Because of this, anyone with the phone is missing out on some new features, such as a dark mode. Whether or not this is a massive problem, some people are bound to be irritated. 
In terms of RAM, the phone is said to have 6GB of RAM in comparison to the 4GB in the iPhone 11 and the 8GB in the Samsung Galaxy S10. Storage also lies at 128GB, however, which isn't really impressive. 
Camera: 
The Razr comes with a 16MP rear camera. This is a slight let down, as the Motorola One Zoom had a multi-camera. It also has a 5MP front camera, though, ready for any selfie taking. Although this won't be as crisp, it's a smooth process in recording while it's closed and then while it's open. As long as you're not buying the Razr for photography, it should be fine. 
Price & Release: 
The price of the new Razr phone is at $1500, which is approximately £1200. Some people think that this is incredibly ambitious for Motorola to do, since they've been under the radar a bit recently, and they don't really have the brand presence. However, some people are saying it's affordable, as it's foldable and it's around -even under- the prices of the new Samsung and iPhones. 
Pre-orders start December 26th, its release being the 9th January (for the US). Pre-orders also begin in December for the UK. 
Final Overview 
The new Motorola Razr is definitely a new thing that everyone's going to be talking about. Whether people will buy it is another story. With its ambitious price and few cons, we'll see what happens. The nostalgia alone might be the one thing that drives people in its direction. 
Sign Up For Best Services